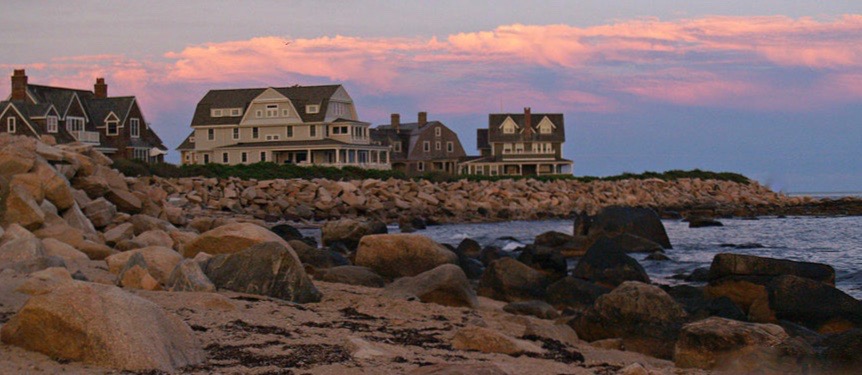 The waning days of summer are a reflection of warm, feel-good experiences in our Rhode Island beach town. Countless seasonal visitors return here every year, seeking the charm of a coastal New England vacation. The seaside community near our house is a postcard of traditional Americana, with tidy cedar-shake homes overlooking wind-swept rocky shorelines. My family and I love strolling these cozy lanes in the evening, the fragrance of backyard barbeques still in the air. There's a nostalgic innocence about this place. Happy youngsters snake past us on gleeful twilight bike rides, while extended families gather on ocean-view porches to reminisce, or set off for sunset walks on the beach.
Throughout the long days of summer, an open window in my home office invites this aura of the season to come and go as it pleases. The Atlantic surf creates a faint hypnotic ambience, accented by occasional shrieks of joy from youngsters frolicking in the waves. Later in the evening, muted tones of music and laughter float on the ocean breeze, at times accompanied by the percussion of fireworks or the eerie call of a distant foghorn. There's never a need to remind me of the glories of summer as long as that window stays open. They're a constant presence in my home.
While this coastal symphony played on the other night, it got me thinking: one of our goals as Christians should be to experience and maintain this same kind of constant presence with God. 1 Chronicles 22:19 tells us to "seek the Lord your God with all your heart and soul." But seeking God with ALL your heart and soul is easier said than done, right? We have other daily responsibilities, distractions, and things that occupy our minds and our time. How can we possibly do everything at once?
Perhaps a key concept is simply to keep a window open for God at all times – a continual awareness of the reality that God is always present. Just as an open window in our homes allows the splendor of summer to filter into our living rooms, so we can invite the glories of God to infiltrate our lives. Listening to Christian music, frequenting Christian websites, and creating Godly visual cues in our homes or workplaces are great ways to keep our hearts and minds continually focused on Him.
We may not always be able to be "in the moment," as we are on those twilight walks in summer, but we can leave ourselves open to the fresh and soul-satisfying air of God's presence.
– Ron Reid
Share this post on Facebook