Dr. Dave R. Reid
April 2, 1937 – January 31, 2012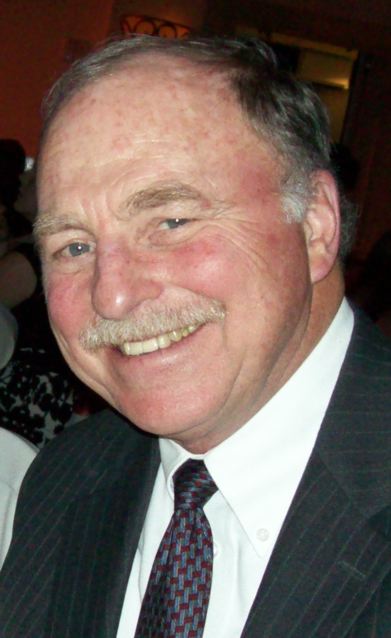 Dave Reid was born in New Jersey. He and his sister, Elizabeth Good, and brother Paul Reid, were raised by committed Christian parents, John and Eunice Reid, who emphasized the personal in-depth Bible study that marked Dave's life. Dave made his own personal decision to trust the Lord Jesus Christ as his Savior when he was eleven years old.
At the age of 12, Dave contracted polio and his legs became paralyzed. One night a man appeared at the window of the isolation ward where he lay. The stranger told him that people all over New Jersey were praying for him. The next morning, in what could only be a miracle, the paralysis had completely left his body! A natural athlete, Dave was a lifelong sports enthusiast. He played high school baseball, and became an avid skier, windsurfer, golfer and tennis player. He was an enthusiastic competitor who turned everything, including family devotions and Bible memorization, into friendly competition!
Dave met Margaret Smart at Bible Truth Hall when they were in their teens. Dave and Margie attended a Billy Graham rally in New York City in 1957, where they made a commitment to serve the Lord together in any way God chose. Dave and Margie were married in 1959, and the Lord gave them over 52 very happy years of marriage.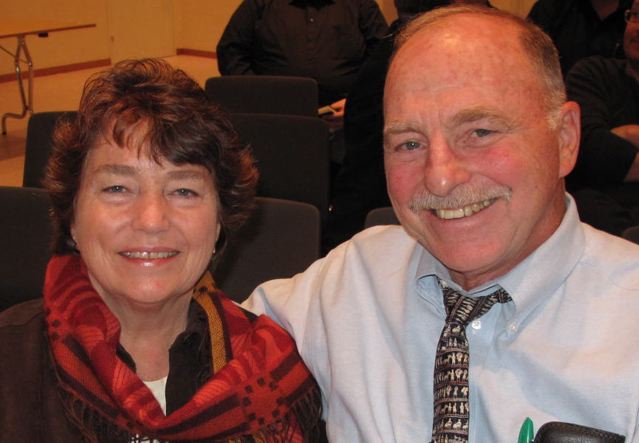 In 1959 Dave graduated from Rutgers University with a degree in engineering and began his career as a research engineer. While he was serving in the U.S. Army Signal Corps to fulfill his ROTC commitment, their first child, Catherine, was born. Dave and Margie had two more children, David Jr. and Ron. Dave earned a Ph.D. in engineering from Rutgers in 1967, setting a speed record for his department in completing his doctoral program!
While in graduate school and also while working as a research scientist, Dave was always involved in youth ministry. The Lord eventually called him to work full-time with Young Life, a ministry to high school students. Through the generous gift of a Young Life committee member, he was able to study at Gordon Conwell Theological Seminary. There he earned a Masters in Theological Studies degree in 1975. While in seminary, Dave maintained contact with his former Young Life kids by writing a monthly news + devotional letter. This letter, called "Devotions for Growing Christians," grew to a mailing list of over 5000 readers around the world, and continues by email today. Back in the early 1970s, Dave and Margie had no idea that the Lord would gradually develop those monthly letters to high school kids into "Growing Christians Ministries."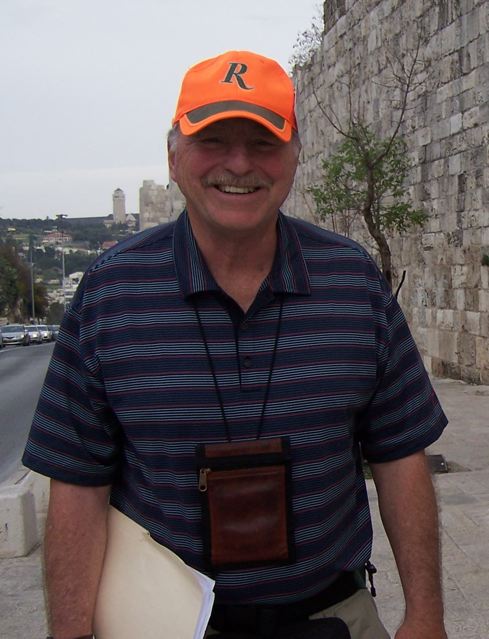 In Jerusalem
In 1975, Dave joined the faculty of Emmaus Bible College, where he taught for 28 years. During these years, Dave ministered at many summer camps and conferences. Many Berea Teen Campers still recall his Bible seminars, and Deerfoot Lodge campers remember "Chief Dave's Bible Games"! Dave and Margie led tours to Israel and other Bible Lands, and they loved to watch the Bible come alive to their tour members. They consistently opened their home to many Bible studies through the years. Dave used every event as an occasion to share God's Word – including the times when he had a captive audience, such as on ski lifts or plane flights! He creatively turned his love of sports into study and fellowship opportunities: "Ski and Study," "Golf and Grow," and "Tennis and Tailgate Fellowship."
In the early 1990s, Dave began recording Bible teaching for radio and tape distribution. He made every talk personal, with his offbeat sense of humor and stories from his own life. One day he excitedly told Margie about "this new thing, the Internet," on which he could make his devotional newsletters and recorded talks available. Today the website, growingchristians.org, is a rich resource of Bible teaching for believers all over the world.
In 2003, Dave and Margie moved to Rhode Island to be closer to their son Ron, who was already working with them on the technical side of the ministry. Although he claimed to be in retirement, Dave began teaching Christian Growth classes at Groton Bible Chapel – always with a cup of Starbucks in his hand! There he recorded many of the Bible book series that are now available on the Growing Christians website. In addition, he taught a men's morning Bible study, a home Bible study, a high school class at a Christian Academy, and of course, he continued to teach at conferences and Bible colleges. He traveled to teach the Bible in such far-flung places as Korea, Myanmar (Burma), Singapore, and the Faroe Islands. Always a disciplined Bible student, even after his retirement from full-time teaching, he consistently dedicated every morning and most evenings to Bible study.
In June 2011 Dave reached the goal that was dear to his heart for the past 20 years: he completed recording "Talks for Growing Christians," a chapter-by chapter exposition of every book of the Bible! Everything Dave has written and recorded over the past 39 years is available to download at no cost on the Growing Christians website.
Dave and Margie have six grandchildren, ranging in age from 9 to 19. "Grandpa Doc" loved to play chess, backgammon and other games with his grandchildren. He constructed a zip line and a shuffleboard court in his yard especially for them, and was in the process of creating a skating pond behind their home. God granted Dave and Margie the joy of spending time with each of their much-loved grandchildren in December 2011.
Dave loved ball caps, Starbucks, spaghetti and meatballs, family gatherings, the Patriots, model trains, Tim Tebow, ice boating, meeting new friends, and granite – a "Creation Rock" that cannot be formed in the laboratory! He enjoyed New York Times crossword puzzles, World War II documentaries, and books and DVDs about scientific evidence for Creation. In fact, he said that one of the top items on his "to-do list" when he got to Heaven was to watch the replays of the six literal 24-hour days of Creation and the Genesis Flood!
Dave loved to tell and re-tell the stories of God's faithfulness, provision and protection through the years. We will not forget that wide grin and infectious laugh! In Dave's own often-repeated words, there's "more we could say!" Much more…
At the age of 74, Dave still maintained his busy teaching schedule. In January 2012, he spent a week teaching at Jackson Hole Bible College, and then traveled to Utah to lead a men's "Ski and Study" retreat. On January 31, 2012, he skied into the presence of the Lord he loves so much and served so devotedly. "Well done, good and faithful servant! Enter into your Master's joy!"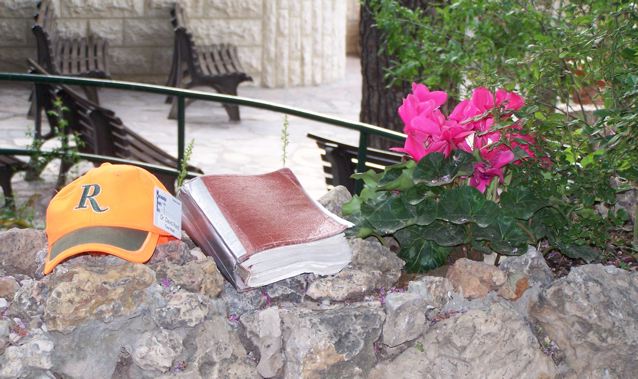 At the Garden Tomb, Jerusalem
(These reflections were read at Dave's memorial service at Groton Bible Chapel, CT, on February 4, 2012.)